Looking to replace or upgrade to a more robust transmission pan for your 4l60e? Great! You have plenty of options.
The 4l60e is one of the most popular transmissions, making the aftermarket plenty for parts.
Whether you're looking for a factory replacement, a simple upgrade to a deeper pan, or a heavy duty cast pan, we can give you the information you need to find the right pan for your vehicle's 4l60e.
Here are our recommendations for some of the best transmission pans for your 4l60e!
| | | |
| --- | --- | --- |
| Transmission Pan | Design & Style | Price |
| Dorman 265-811 | Steel – Deep Pan | Shop Now  |
| TSI Specialties 4l60e Transmission Pan | Cast Aluminum – Deep Pan | Shop Now |
| aFe Power 46-70242 4l60e Transmission Pan | Cast Aluminum – Deep Pan | Shop Now |
4l60e Shallow Pan Vs Deep Pan
The 4l60e utilizes two transmission pans from the factory, a "shallow" and a "deep" pan. The shallow pans are commonly found on cars where as the deeper pan is typically found on trucks and SUVs.
The shallow pan has a depth of 2 3/8″ compared to  3 1/8″ for the deep pan. This added depth allows for about one extra quart of capacity for the deep pan over the shallow pan, making it a common upgrade on cars or other vehicles equipped with the factory shallow pan.
The image below shows the size difference between the two pans. The deep pans added 3/4″ depth comes from a stepped down design on the front of the pan.

When making the switch to a deep style 4l60e pan from the factory shallow pan, it is important to remember to utilize a filter designed for that pan.  The deep pan filter has a larger filter body to accommodate the depth difference.
Dorman 265-811 Transmission Pan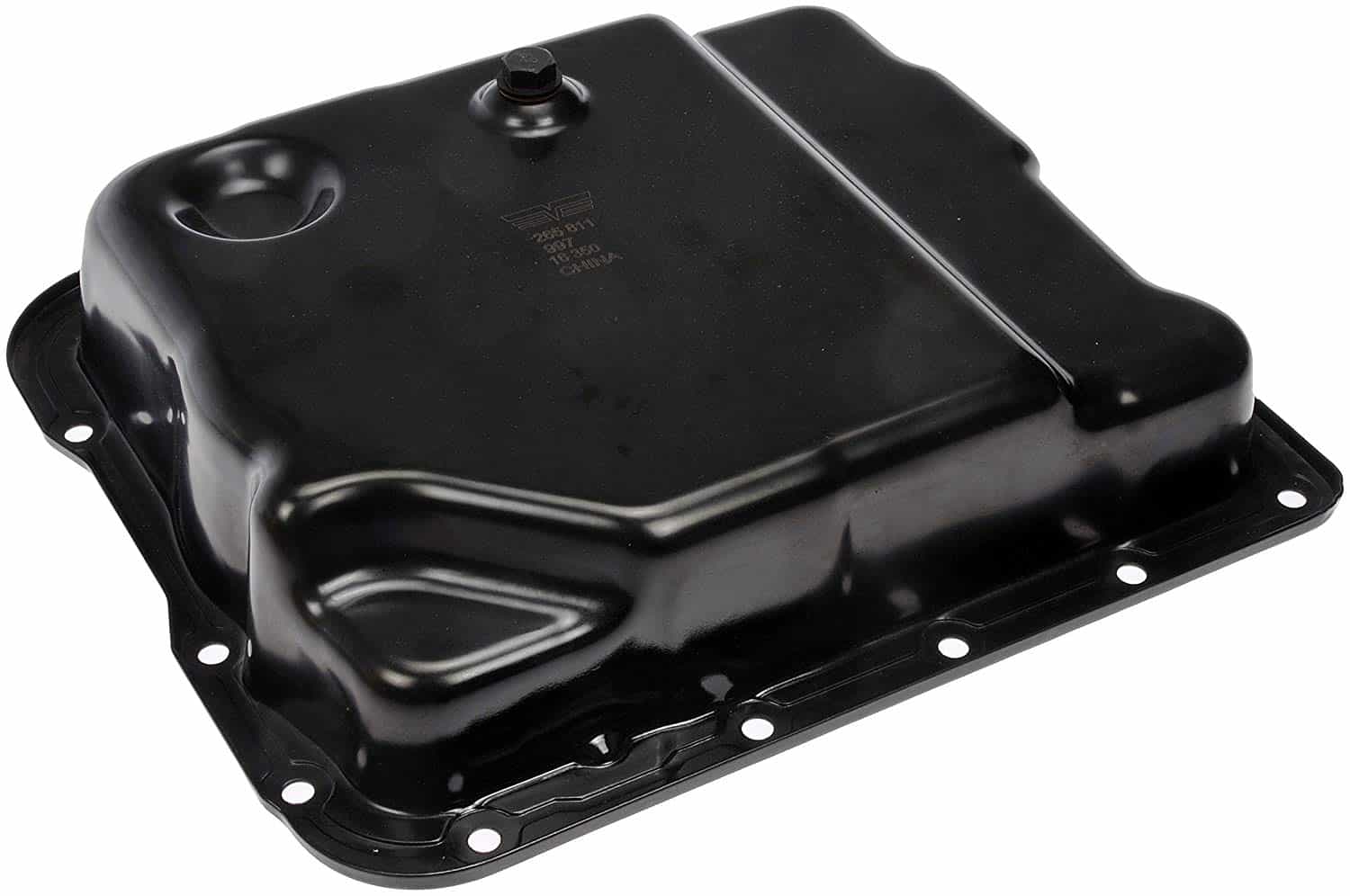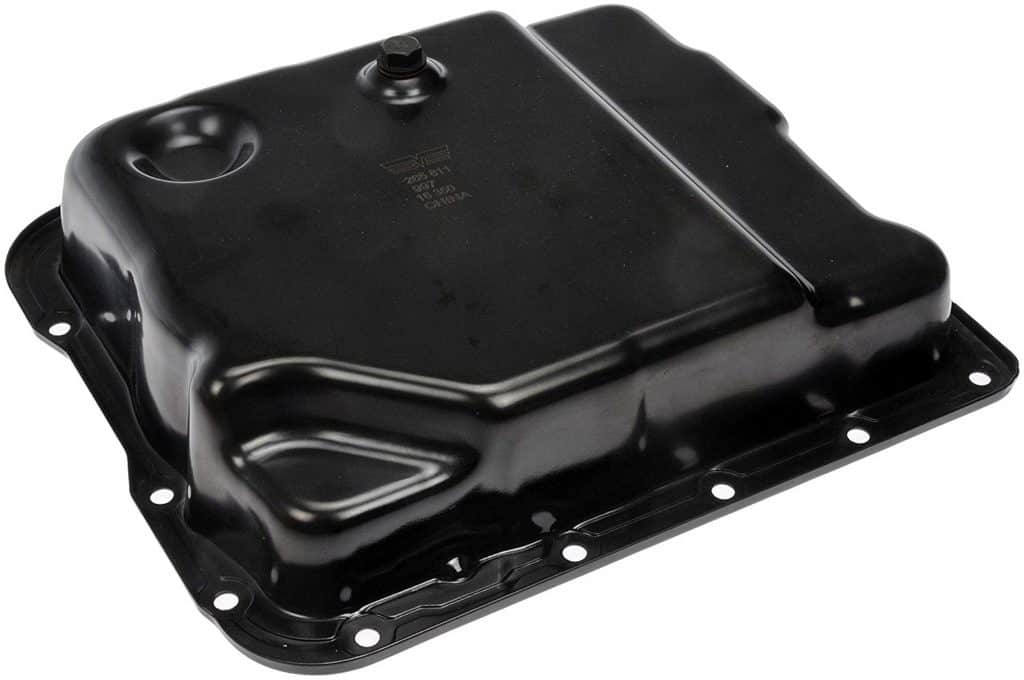 Dorman's replacement transmission oil pans always help provide the most hassle-free fluid draining possible for future transmission oil changes. Dorman offers many of the highest quality replacement parts for nearly every application. They re-engineer original parts so that are up to OEM specifications so both weekend warriors and professionals alike can replace their parts just like they came from the factory.
The Dorman 265-811 transmission pan for 4l60e transmissions features the same factory "deep" design that is standard on trucks and SUV's. However, this pan comes equipped with a drain plug for easy fluid changes int eh future, where as the factory unit does not.
This pan holds about an additional quart of transmission fluid compared the the standard "shallow" pan.
This pan is widely used on many cars and trucks simply due to the fact is is just like the factory pan.  If you are installing this pan on a vehicle that typically comes with the standard "shallow" pan, you will need to make sure you get the right transmission filter that is designed for the deeper pan.
Dorman 265-811 Features:
Direct replacement for all factory 4l60e transmission pans
Black steel to prevent rust and corrosion
Drain plug – This will make future fluid and filter changes a breeze.
Meets OEM standards
Pros
Factory fitment and installation
Perfect for replacement pan
Pre-installed plug
Cons
Plug leakage caused by a low quality washer
Other than the lower quality drain plug washer that tends to leak, this pan is a great option for the budget conscious. The factory fit and drain plug will not only help future transmission fluid changes easier, but the black steel will look great for years to come.
Overall, the Dorman 265-811 transmission pan is a great option for a low-cost replacement on your 4l60e.
TSI Specialties 4l60e Transmission Pan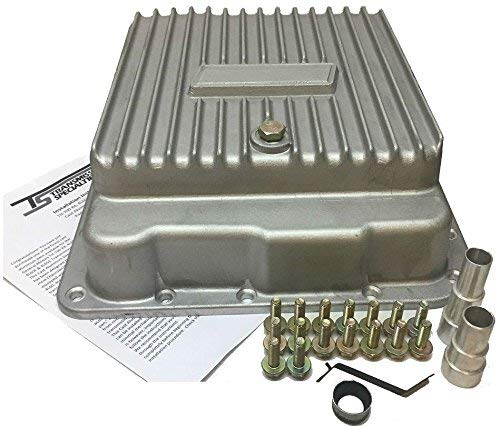 The TSI Specialties 4l60e transmission pan offers plenty of great features that will help not only improve transmission performance, but make installation of the pan extremely simple.
This cooler is unique because it not only includes all new installation hardware, but has transmission filter spacers.  This allows for simple installation of your existing transmission filter.  This is used because the pan is designed to have an additional 2 quart capacity, meaning it has a greater depth than a standard factory style deep pan.
With its cast construction, this pan is extremely high quality and durable. It has cooling fans built into the body to help improve transmission fluid cooling efficiency and reduce temperature. The pan also has a magnetic plug drain plug for quick and easy fluid changes.
Overall, for the price, the TSI Specialties 4l60e transmission pan is a great value given the design and what it includes for installation. 
TSI Specialties 4l60e Transmission Pan Features
Heavy Duty Cast Construction
Includes Mounting Hardware and filter extensions
Additional 2 quart capacity
Cooling fins for reduced Temps
Magnetic drain plug
Pros
Durable and sturdy cast aluminum construction
For the price, this pan is very nicely constructed and includes additional accessories to make installation quick and easy
Cons
Recommended for trucks and SUVs – Due to the pan hanging lower than a factory style pan, it is best for use on trucks and SUVs to avoid damage
aFe Power 46-70242 4l60e Truck Transmission Pan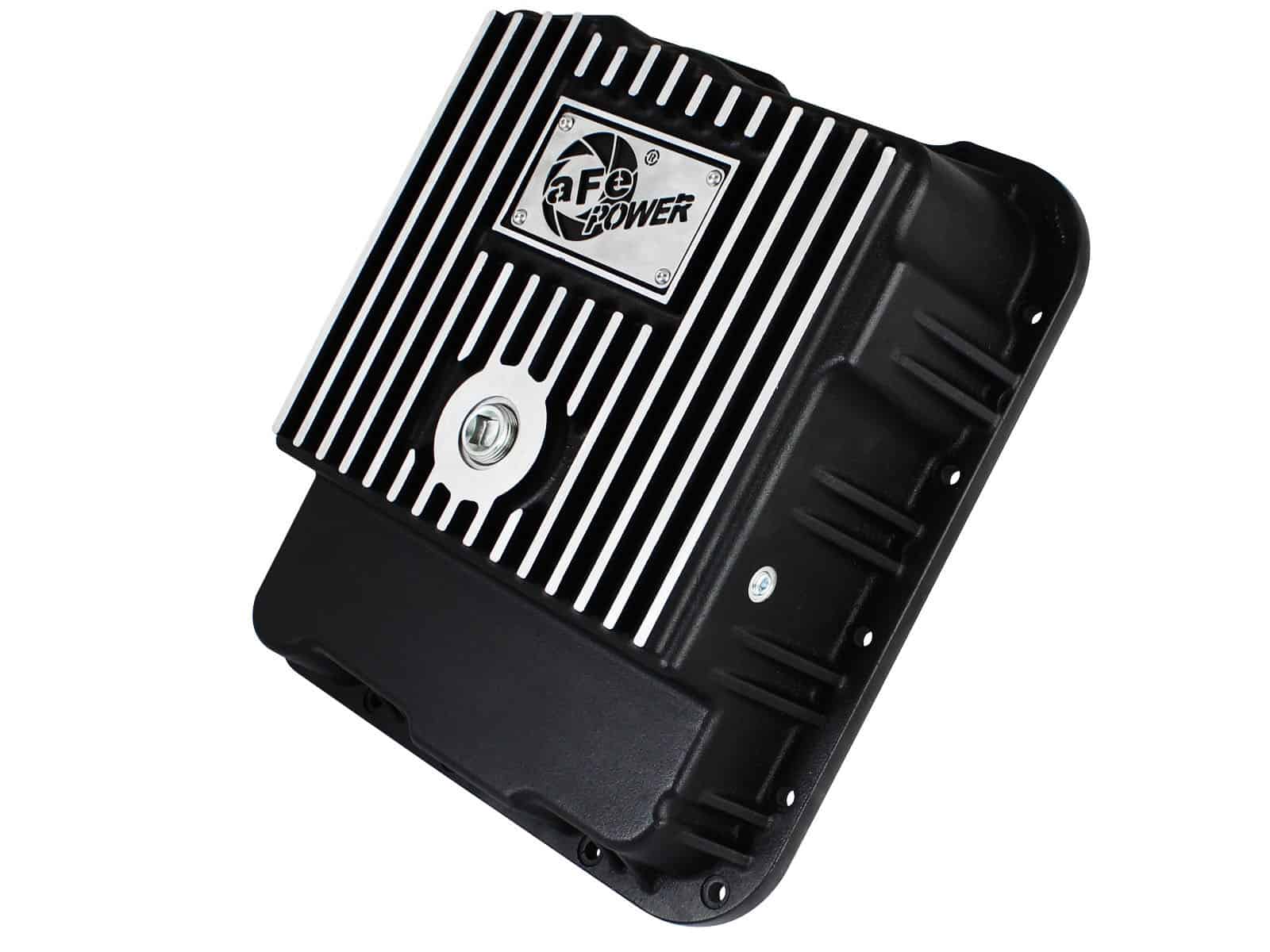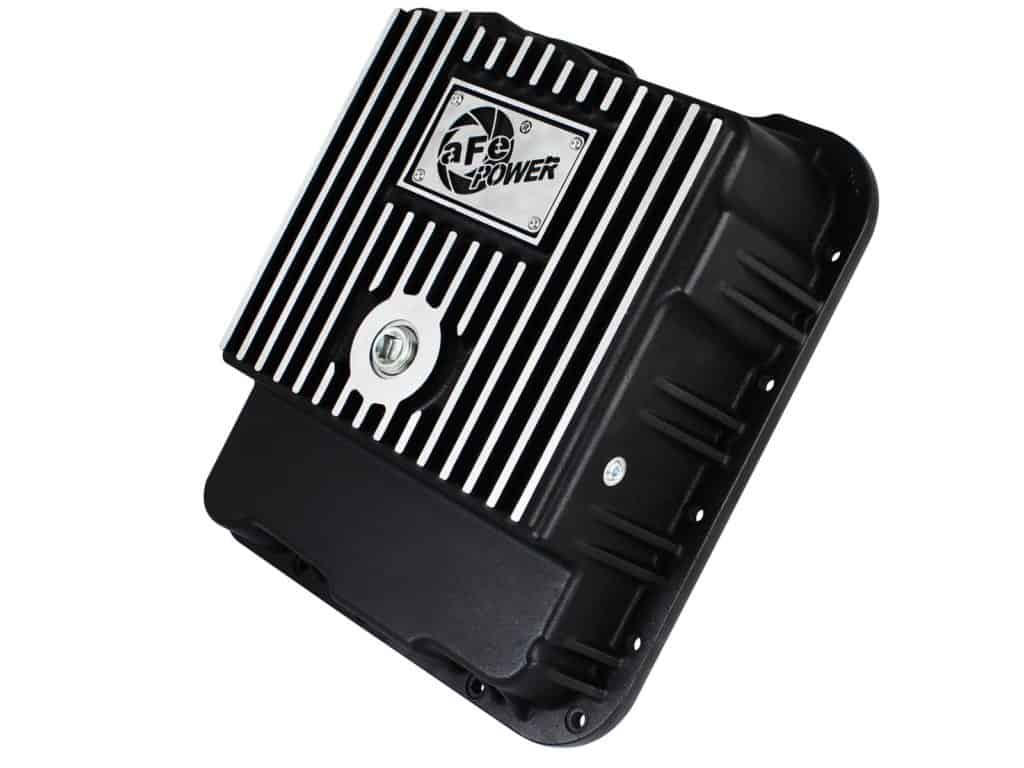 If you are looking for the best performance and protection in your transmission pan, then the aFe Power 46- 70242 4l60e transmission pan is perfect for you. Not only does this pan offer more fluid capacity, but the cast construction makes it extremely durable.
This pan adds two additional quarts over the stock pan,which helps with cooling. In addition. This pan has both external and internal fins designed for transfer fr even more transmission fluid cooling.
The pan utilizes a sleek  black powder coated finish machined fins for great styling and protection. In addition, the aFe Power transmission pan has a built in drain plug on the bottom that simply uses a 1/2″ drive for easy removal, and a 1/8″ NPT plug threaded plug on the side for an aftermarket transmission temperature gauge.
While this pan has a heavy duty design, it is recommended for use on trucks and SUV's as ground clearance could become an issue on most cars.
aFe Power 46-70242 Features
Internal and external fins
Magnetic Drain Plug

2 quarts of added fluid capacity

1/2″ square socket drive

1/8″ NPT port for transmission temperature gauge
Pros
Very sleek looking pan that is highly functional
Extremely durable cast aluminum construction
Cons
Recommended for trucks and SUVs – Just like the TSI Specialties pan, if used on cars you may run the risk of reduced ground clearance which may damage the pan. 
If you're looking to upgrade the transmission pan on your 4l60e, there are a number of options. Whether you prefer a lower cost stock replacement or a higher end cast pan with provisions for transmission temperature gauges, you have plenty of options.